Windows 10 e vecchie stampanti USB: problemi di stampa e come risolverli
Da diversi giorni ci sono segnalazioni in merito a un problema emerso dopo uno degli ultimi aggiornamenti cumulativi (qualitativi) di Windows 10, il quale rende la stampa pressoché impossibile su alcuni vecchi modelli di stampanti connesse tramite USB. Il fenomeno non è strettamente collegato a uno specifico modello o tipologia di stampante anche perché in alcuni casi ha riguardato una funzione software come la stampa del documento in formato PDF.
Le versioni di Windows 10 coinvolte sono 1903, 1909 e anche l'ultima 2004 (May 2020 Update) e Microsoft, in circa una settimana, ha risolto il problema rilasciando, per la 2004, un aggiornamento del sistema datato 18 giugno 2020 (KB4567523) il quale porta la build del sistema operativo alla versione 19041.331; per la 1903 – 1909 l'aggiornamento è datato 16 giugno 2020 (KB4567512) e porta le build rispettivamente alle versioni 18362.904 e 18363.904.
Addresses an issue that might prevent certain printers from printing. The print spooler might generate an error or close unexpectedly when attempting to print, and no output will come from the affected printer. You might also encounter issues with the apps you are attempting to print from, such as receiving an error, or the app might close unexpectedly. This issue might also affect software-based printers, such as when printing to PDF.

Updates an issue that might prevent certain printers from printing, generate print errors, or cause apps and print spoolers to close unexpectedly.

Nel paragrafo successivo vi descriveremo i semplicissimi passaggi per installare manualmente questo aggiornamento in attesa che venga reso disponibile su Windows Update e Windows Server Update Services (WSUS).
Come risolvere il problema su Windows 10 2004?
Andate sul Microsoft Update Catalog a questo link
Scaricate il pacchetto di aggiornamento per il vostro sistema
Installare manualmente con un doppio clic sul file .msu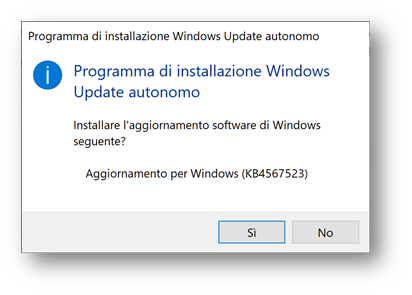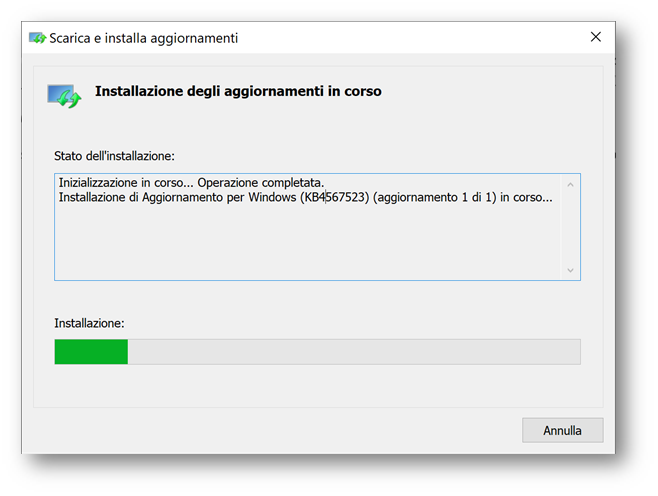 Come risolvere il problema su Windows 10 1903 e 1909?
Andate sul Microsoft Update Catalog a questo link
Scaricate il pacchetto di aggiornamento per il vostro sistema
Installare manualmente con un doppio clic sul file .msu